Otaku Notice Board
Recent developments:

* 6/29/2002 Only two more orders will be accepted for Otakon.



* 6/20/2002 Only a few more orders will be accepted for completion in time for Otakon.


Contact/ Ordering Information:

Send Email to:

Seamstress Leilani
Otakuleilani@aol.com

About the Sample Costume
Ryoga Costume includes:

+ a custom fitted mustard-color cotton shirt
+ sewn (not glued) yellow trim around collar and
cuffs
+ adjustable (button, snap or velcro, buyer's
choice) cuffs and collar
+ styled Ryoga black wig*
+ imported red chinese-style umbrella*
+ black cotton or silk pants*
+ woven rope ties for legs, for the authentic
look
+ chinese martial artist shoes*(trademark of
Ryoga)
+ thick cloth or elastic tie for waist
+ one or more headbands, patterned front with solid- color lining on the back.


* denotes something optional.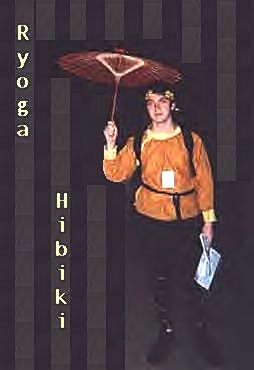 Made by OtakuYou Costumes. Seen at Otakon 2001.

Have questions about ordering, payment, or costume description or construction time?
Contact Seamstress Leilani